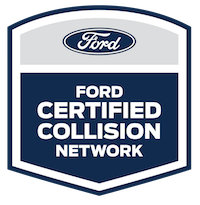 If your Ford truck, car or SUV has been in an accident, Yach's Body and Custom is here for you! Even your F150 aluminum-bodied truck can be fixed at Yach's! We are trained to repair all makes and models of Ford vehicles plus have all the right equipment to get the job done.
Ford F150 trucks with military-grade aluminum can be repaired right here!
We prefer and recommend the use of authentic Ford parts engineered for your vehicle
We are trained using the repair methods direct from Ford.
Your safety is always our goal in getting you back on the road!
Give Yach's Body and Custom a call at (715) 359-0482. We are open Monday through Friday to help get your Ford fixed right!